Iseme Kamau and Maema Advocates (IKM) is a leading law firm based in Nairobi, Kenya. We are the DLA Piper Africa member firm in Kenya, one of the 20 member firms across Africa, offering unrivalled coverage.
IKM is a full-service commercial law firm that has been providing legal services in Kenya for the last thirty years. The firm has highly qualified lawyers with extensive experience in six key practice areas: corporate, commercial, dispute resolution, projects and infrastructure, real estate & finance and tax. Our people are also authorities in their respective fields and are highly sought after for the practical and innovative solutions they bring to the table.
IKM offers the services of a multi-disciplinary team with in-depth knowledge of the Kenyan market and its legal, economic, cultural and social specificities. We advise national and international groups and companies, financial investors and institutions, sponsors, public entities and governments on all the legal aspects of their projects both in Kenya and internationally.
With African economies growing rapidly, Kenya has become one of the continent's most important business hubs. IKM is uniquely positioned to handle legal matters in Kenya as well as those that extend cross-border.
Our relationship with DLA Piper Africa and DLA Piper provides the geographical spread required by leading companies and positions IKM to help clients wherever they choose to do business, be it at the local, national, regional or international level.
The firm's Managing Partner is James Kamau who is also the current Chair of DLA Piper Africa.
The heads of our practice areas are:
DLA Piper Africa is a Swiss verein whose members are comprised of independent law firms in Africa working with DLA Piper.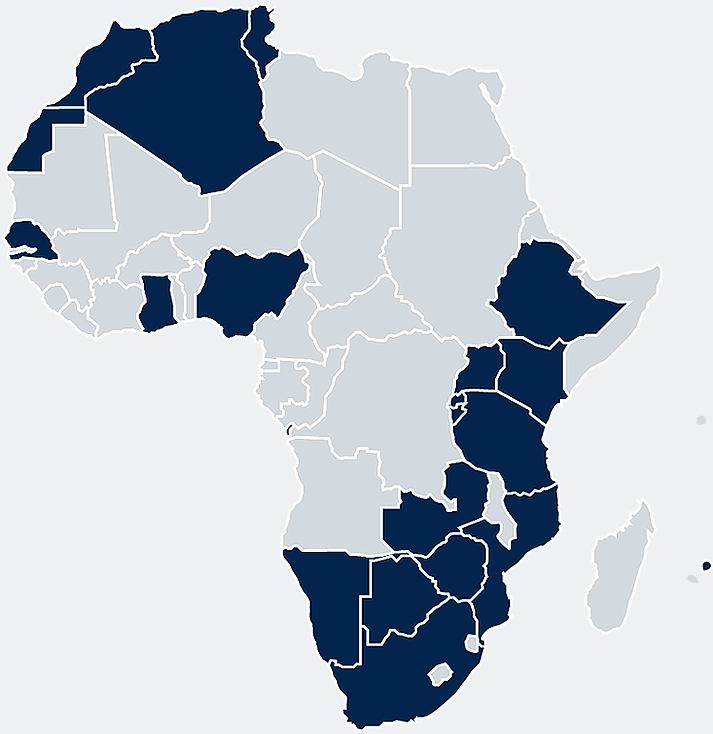 Pillars
People
Culture
Clients
Technology
Practice Standards.
Client care
The hallmark of IKM is our professional and client-focused service.
At IKM we combine our legal and sector expertise with an in-depth understanding of the client's business. Our experience and outcome-focused approach is directed towards creating solutions that help clients to achieve their objectives in better, more cost-effective and time-efficient ways.
As part of this rigorous approach, we have a comprehensive client care program to ensure that our clients' needs are evaluated on a regular basis.
For convenience and ease of clients' interaction with us, we operate a contact partner system under which each client knows the partner they should contact in the first instance in case of need.
Knowledge Management
We pride ourselves on offering high quality legal advisory services based on international best practices and on-the-ground local experience.
Our lawyers have in-depth knowledge of national laws, customs and procedures. Through DLA Piper, and working with DLA Piper Africa member firms across the continent, we have global reach and strong local market resources and expertise, information and materials on the latest developments in the law worldwide.
This relationship has enabled us to position ourselves as the go-to firm for clients who have come to depend on our trusted legal advice. We have built a reputation for cutting edge services and are consistently involved in complex, difficult and novel transactions.
Our history
1987 – Iseme & Company Advocates founded by the late Michael J Iseme
1993 – James Kamau joins the firm and the name changes to Iseme, Kamau & Company Advocates. He is currently the Managing Partner.
2000 – Iseme, Kamau & Maema Advocates is introduced to the market following William Maema joining the firm. This name has remained with the firm since and is widely known in the market as IKM.
2002 – IKM merged with Kamau Karori & Company Advocates and retained the name Iseme Kamau & Maema Advocates. Upon the merger, Kamau Karori became the head of the Dispute Resolution practice.
2010 - February sees IKM announce its alliance with top ranked international law firm, DLA Piper. This places the firm in a unique position to provide legal services for both local and cross-border corporate/commercial matters.
Chambers Global 2023
Highly ranked in Banking & Finance, Corporate, Dispute Resolution, Employment, Real Estate, Intellectual Property and Projects & Energy
Managing IP Awards 2023
Kenya Law firm of the year
World Trademark Review 2023
Gold Status, Intellectual Property
The Legal 500 2023
Highly Ranked in Banking, Finance and Capital Markets, Commercial, Corporate and M&A, Dispute Resolution, Employment, Privatisation and Projects, Real Estate and Construction.
Deal Makers Awards 2023
The General Corporate Finance - Legal Advisers by Transaction Flow & Transaction Value – East Africa
Africa Legal Awards 2022
Restructuring Team of the Year
IFLR1000 Africa Awards 2022
Private Equity Deal of the Year
African Legal Awards 2022
M&A Team of the Year – Highly recommended
IFLR1000 2022
Ranked Tier 1 in the Capital Market and M&A
IFLR1000 2022
Highly ranked in the Banking and Finance & Project development: Mining, Infrastructure and Power
World Tax
Recognised firm 2022
DealMakers Africa 2022
East Africa Deal of the Year
Africa Legal Awards 2022
Environment, Energy and Natural Resources Team of the Year, Small to Mid-Practice
Africa Arbitration Awards 2022
Leading Case Counsel Team
Chambers & Partners Global 2022
Highly ranked in Corporate, Dispute Resolution, Employment, IP, Real Estate and Projects & Energy
IFLR 2020
Ranked Tier 1 in Corporate and Financial
Chambers & Partners Global 2019
Highly ranked in Corporate, Dispute Resolution, Employment, IP, Real Estate and Projects & Energy
The Legal 500 2019
Ranked Tier 1 in Banking & Finance, Projects & Infrastructure and Employment
The Legal 500 2019
Highly ranked in Corporate and Commercial, Dispute Resolution and Real Estate
IFLR 2019
Ranked Tier 1 in Corporate and Financial
IFLR 2019
Highly ranked in Energy, Infrastructure and Mining
World Trademark review 2019
Gold Status in IP
Dealmakers Africa
East Africa Private Equity Deal of the Year 2018
IP Stars 2019
Ranked as recommended firm